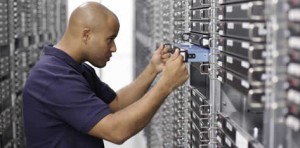 The InCHIP IT server room provides cabinets, cables, power distribution, UPS, firewall and VPN, N+1 redundant HVAC, physical security, fire suppression and a natural gas generator.
Because the InCHIP IT server room has limited capacity, all requests for physical hosting go through a review and approval process to provide the customer with the most energy-efficient options for hosting. The Virtual Hosting Service is available as an alternative hosting option for customers.
---
Options
InCHIP IT provides two options for physical hosting in the InCHIP IT server room:
Self-managed: The customer is responsible for ordering, receiving and installing equipment. The customer is responsible for all aspects of administering the server, operating system, and application. Rack space, network ports, and environmental monitoring are provided. Firewall and VPN services are also available upon request.
Managed Services: A team of system engineers works with the client to manage their hosting requirements.  More information
InCHIP IT can also assist with requests for hosting at the UITS Data Center
---
Features and Benefits
Features and benefits of physical hosting in the InCHIP IT server room:
Conditioned Power — Power systems in the server room are designed to run uninterrupted, even in the unlikely event of a total power outage. Servers connected to our UPS systems are fed with conditioned Uninterruptible Power Supply (UPS) power that will provide a smooth transition to power provided by an on-site natural gas generator. In the event of an extended power outage, the generator can run indefinitely. The generator is regularly tested to ensure that it will continue to function at the time of an emergency.
Physical Security — The server room is physically isolated from everyone except technicians with approved access. Public access is strictly forbidden. Servers are configured to fit in 19-inch cabinets. Cabinet space is assigned by the number of Rack Units (RU) required by each server. The data center is designed to function on a 24 hour, 7 day a week, 365 days per year.
Precision Environment — All air is circulated and filtered to remove dust and contaminants. The Heating, Ventilation and Air Conditioning (HVAC) system is N+1 redundant to ensure continuous operation should one module be out of operation as a result of equipment failure or scheduled preventive maintenance. An advanced FM200 fire-suppression system is in place to prevent any fires from spreading in the unlikely event that one could start. All cables to servers and routing equipment are securely tied down to cable racks suspended above the cabinets and cable conveyances contained within each cabinet.
24×7 Operations Support — Operators provides 24×7 support for the server environment. (There may be occasional graveyard shifts that do not have someone present, but in these circumstances there is a hotline to reach someone who can dispatch on-call personnel.) Operations Support provides for environmental monitoring, physical security, HVAC and electrical (including UPS and generator) support and coordination with Physical Plant, and can provide hardware and network provisioning technician services.
Information Security — Applications in the server room have the option of being hosted behind a firewall with custom rules. The hosted hardware will be provisioned on a network segment behind the firewall that enables appropriate protection and access. VPN services are provided for secure remote access to servers and services behind the server room firewall.
Server Room Network — The data center network provides high-availability network connectivity to hosted servers.  Physical servers are provided with standard 1 Gbps service, with 10 Gbps service available.  Custom options for higher performance are available when required.
---
Availability
This is a 24×7 service supported by the server room Operations team .
For planned maintenance, the server room follows the InCHIP IT Change Management process.
---
Data Security
The InCHIP IT server room is appropriate for confidential and most types of restricted data.
---
Eligibility
There are currently no restrictions on eligibility.
---
Costs
Hosting in the InCHIP IT server room is provided at the minimal charge of $120/yr. to InCHIP Affiliates. InCHIP IT covers all other costs relating to physical hosting in order to encourage members of the UConn community to advance their research and to take advantage of the secure and power-protected environment.