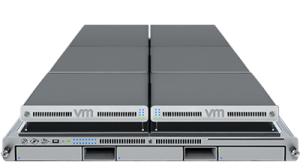 The InCHIP IT server room offers virtual servers that provide enterprise-grade high availability. Virtual servers managed by InCHIP IT are offered with Windows, Redhat Linux, or FreeBSD. Virtual servers managed by outside of InCHIP IT staff can run any operating system that can run on VMware ESXi (Intel processor OS). Virtual servers can be provided without 1 the customer purchasing hardware or operating system (OS) software. The InCHIP virtual server farm is located in the InCHIP IT server room.
1. For UConn faculty, students and staff under existing campus agreements only.
---
Options
InCHIP IT provides two options for physical hosting in the InCHIP IT server room:
Self-managed: The customer is responsible for ordering, receiving and installing equipment. The customer is responsible for all aspects of administering the server, operating system, and application. Rack space, network ports, and environmental monitoring are provided. Firewall and VPN services are also available upon request.
Managed Services: A team of system engineers works with the client to manage their hosting requirements.  More information
InCHIP IT can also assist with requests for hosting at the UITS Data Center.
---
Features and Benefits
Features and benefits of virtual server hosting in the InCHIP IT server room:
Operations Monitoring – Data center operators monitor server availability 24×7
Backups – Optional service. Daily incremental back-ups and weekly full backups are completed by the Operations staff.
Firewall Protection – Most virtual servers in the InCHIP IT server room are behind a redundant pair of firewalls. Firewalls limit access between computer networks based on security policies to protect sensitive data on servers and systems. Any network segment that is available inside of the InCHIP IT server room can be configured inside of the virtual infrastructure.
Systems Administration – Optional service. OS Layer administration, patch installation and upgrade maintenance by Core Tech System Administrator staff.
Load Balancing – Optional service. Distributes workload across two or more servers by optimizing resources, output and response times.
Operating System Licensing – The Virtual Hosting Service provides operating-system licenses for Windows Server and Red Hat Linux for UConn students, faculty & staff.
---
Data Security
UConn policies and procedures related to protecting personal and confidential information are strictly adhered to for all servers in the InCHIP IT server room. Restricted and sensitive data includes:
Personal Identity Information (PII)
Electronic Protected Health Information (ePHI & HIPAA)
Student Records Protected by FERPA (The Federal Family Educational Rights and Privacy Act of 1974)
General virtual hosting service is cleared for running virtual servers with PII and FERPA. HIPAA in-scope systems may be hosted after configuring some specific architecture and passing audit. The InCHIP IT server room is not cleared for PCI-DSS scope systems.
To request a quote please click on the link below.

---
Costs
For fiscal year 2014-15, the charge for each unmanaged virtual machine (VM) is calculated as follows:
Simple Server ($240/yr.)1
Standard Server ($480/yr.)1
Advanced Server ($720/yr.)1
Custom VM
Bare Metal Configuration
2GB RAM
1 CPU Core
50GB Storage (Incl. OS)
4GB RAM
2 CPU Core
200GB Storage (Incl. OS)
8GB RAM
4 CPU Core
500GB Storage (Incl. OS)
Up to 128GB of RAM
Up to 16 Cores
UP to 40TB of Storage
Up to 6TB of RAM
Up to 60 Cores
UP to 40TB of Storage
320 Gbit Network Back-plane
GPU Support
1. Prices are for University Departments, Faculty, Staff and Students. External parties will be charges an additional 58% Services Fee.