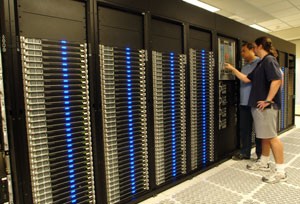 Network File System (NFS) is a distributed file system protocol originally developed by Sun Microsystems in 1984,[1] allowing a user on a client computer to access files over a network much like local storage is accessed. This service is a complement to the Tier 1 Storage provided (to a limited number of clients) by the EMV VNXe storage device. For this reason, NFS is a "Tier 2" storage service: while designed to be robust and reliable, it is not architected for high availability, and so is not recommended for highly-demanding transactional applications. This service is more suited to web page storage, historical or log-file storage, and for distributing files across servers. For security and performance reasons, this service is not designed for individuals or for access from the desktop. In this way, the new service is distinct from existing services like Windows File Services.
---
 Features and Benefits
Share files across multiple UNIX servers.
Subscribers to this service may optionally request data replication between the CASS-IT Server Room and UITS Data Center.
Subscribers to this service may optionally request data backups using the CASS-IT Backup Service.
Physical Security  — Files  are stored on storage devices located in the CASS-IT Server Room and UITS Data Center.
---
Availability
This is a 24/7 service supported by the DCO UNIX team. Escalation is provided through Data Center Operations and the UNIX on-call rotation.
ITS reserves a maintenance window on the first Sunday of each month from 12Noon – 6PM. At least two weeks' notice will be provided if maintenance is expected to result in a service outage.
---
Data Security
NFS is appropriate for most types of restricted and confidential data. Servers that require this level of service must be cabled to the secure storage network.
---
Eligibility
NFS is available for servers that are managed by ITS Core Technologies. This enables ITS to ensure data security, and overall quality and performance, and also to manage the "fair use" of this free service across the customer base.
---
Costs
Enterprise File Services are provided in 1 Terabyte increments at a rate of $0.05 per gigabyte per month with an initial subsidy of the first 350G.
---
Request this Service
Network File Services are provisioned on request through the [REQ Form].