Each semester, the InCHIP Lecture Series brings nationally and internationally recognized leaders in health behavior change research from diverse academic fields to the University of Connecticut to inform and strengthen existing InCHIP research endeavors and to foster new multidisciplinary collaborations. The InCHIP Lecture Series provides an invaluable forum for researchers – at InCHIP, throughout the UConn community and beyond – to learn about new work in development by leading figures in health behavior change. The InCHIP Lecture Series also provides a venue for researchers to share important findings and identify emerging trends in health behavior research.
This is done in Ryan 204 which is managed in tandem with UConn's Interactive Television & Video Conferencing group (iTV). The iTV program allows simple communication between any of the iTV equipped rooms on the Storrs campus and all five regional UConn Campuses. All rooms are capable of point-to-point connections and utilize the latest video technology. This will allow you to send your camera image and content (e.g. PowerPoint) simultaneously. Additional hardware has been installed to allow multipoint conferences with up to 39 participants. We also have a portable unit that will allow for the same video conferencing features in any room with a computer, network connection, screen and projector.
Sample Mediasite Stream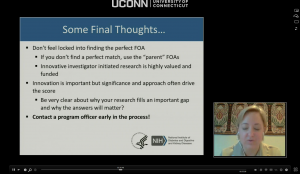 To view an active or previously recorded stream does not require any special software. It can be viewed through any current web browser. Active remote participants along with the presenter are shown in one tile while the active slide or media is show in the other. To the left is a sample from a video conference between attendees in Ryan 204 and a presenter in Washington DC.
---
S
ome Connection Options:
Cisco Jabber Client
WebEx Client
ISDN (Land or Cell Phone) Dial-In [Audio Only]
Mediasite Web streaming
If you would like to schedule a video conference please submit a request here.
If you would like to schedule a WebEx conference please submit a request here.