The 3CXPhone Application is either a Windows or MacOS Application. The 3CXPhone application offers offers dozens of features, including:
Main Page: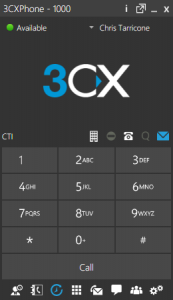 From the main screen you have the ability to initiate an instant message or phone call to any of the other users on the phone system. Phone System includes a CTI mode that allows you to control your deskphone with a few mouse clicks rather than having to learn a cumbersome cryptic interface. Launch calls on your deskphone without typing the number or transfer a call with a few mouse clicks. You can initiate the intercom, create a conference call with any number of users or just leave a voicemail in their mailbox. The colored icon next to each user instantly shows you their status, whether they are out of the office or any one of five programmable statuses.
The Voice Mail Menu: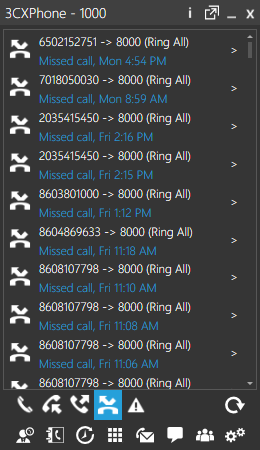 The screen shows you all of the phone calls that you have received. The list shows the date, time and caller ID for each call.
The Voice Mail Menu: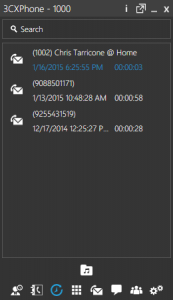 The voice mail screen shows you all of the voicemails that you have waiting. The list shows the date, time, length and caller ID for each individual message. No longer will you be required to hunt through a list of voice mails to find the one you want to listen to. There is a series of buttons that allow you to mark messages as old or new. You can tell the voice mail to play on your phone, or if you prefer you can have it play through the speakers of your computer. For businesses that have chosen to integrate their phone system with their email environment, your voice mails will show up in your email box as an audio attachment.
Company Phone Book: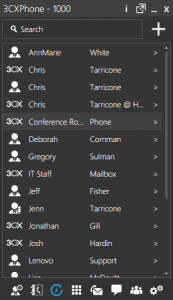 There is no longer any need to update a phone list and publish it to the staff. As users are added and removed from the system this list automatically updates. There is nothing to maintain. Even if you were to change a users extension, you need only to click a button in the Administration interface and a new phone book is generated and pushed to the staff.
Extension Settings: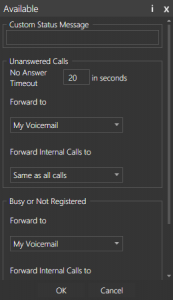 You have the option of giving users the ability to easily handle how calls are routed when sent to their extension. There are 5 call statuses: Available, Away, Out of Office and Custom 1 and 2. These allow for calls to be sent to voicemail, another extension, a Skype account or a mobile phone. Some statuses can have separate rules for internal and external calls. Options are presented in either a multiple choice or a drop-down menu for easy use. Access to these features can be turned on or off, by extension, in the management interface.